Introducing 1500m Champion, Lewis Moses: his journey and advice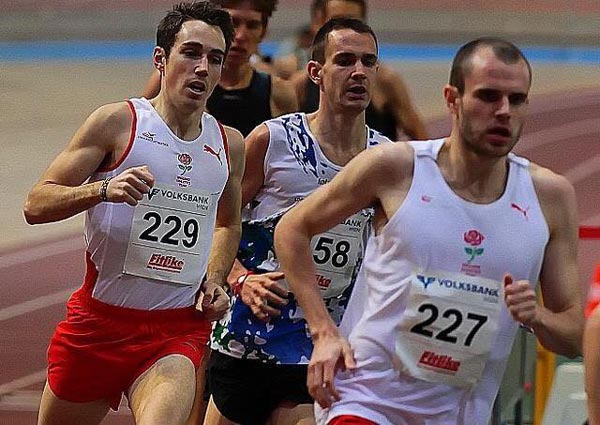 I was never the greatest 'eater' when I was a kid… My parents would probably disagree, as I ate a lot, but in terms of getting the right food in my body, I was terrible. To give you an idea; in secondary school for lunch, I would walk to the local shops and often eat a sausage sandwich from the butchers, then buy a fruit scone from the bakery and finish it off with a king size Twix and packet of crisps from the corner shop. This wasn't a one off, this was pretty much every day! Even worse, on a Wednesday when the butchers shop was closed, I would take myself to the fish n chip shop and order a deep fried burger, topped with donner kebab meat and cheese served in a white bun and a side of chips ..... lovely! The thought of that now makes me cringe, literally!
Despite this terrible 'diet' I was performing well both in school and sports. In fact, I was running at a pretty high level. I was the County Schools Cross Country and 1500m champion and I had qualified to run at the English Schools in both Cross Country and Track and Field. Athletics had become my main sport and by the time I left for college at the age of 16, I had established myself as one of the top 20 best athletes in the country. Not too bad considering my lifestyle and diet.
My time at Loughborough University made me fully understand the importance of nutrition and being surrounded by positive influences
Despite becoming more educated at college, it didn't change my eating habits. Being closer to the town centre only gave me more options for bad food and working at McDonald's most certainly didn't help my cause. I was still running well, however my performances had plateaued slightly. I wanted bigger things athletics wise and this prompted my decision to choose Loughborough University as my new home.
Loughborough was a place renowned for it's sporting success, in particular athletics, with the likes of Seb Coe and Dave Moorcroft both graduating from there.
At University I started to make some changes. I asked my new-found friends to put veg on my plate (at this point the only veg I ate was potatoes and carrots) and they did so every lunch and dinner times. It forced me to try new things, but it didn't stop me eating rubbish. I would often skip breakfast, or eat cereal in my room, despite being catered for and on a night time before bed I would delve into cheesy chips, bought from the burger place on Campus. Despite this very modest change, I made major improvements with my running. I had found a group who I loved training with and my passion for the sport was growing. I started to see more potential in my own ability, but I also noticed how much more serious the 'elite' athletes took the sport than I did. Things had to change!
Moving into a house in my 2nd year of University looked like a nightmare from the outside. Six lads living together for the first time, I mean it had disaster written all over it. I and other people couldn't be more wrong. This was the single best life decision I ever made. We did weekly shops, including one to the local market. The cupboards were always stocked, the fridge was brimming with fruit and veg, and we took turns to cook as a group every night. I absolutely loved the routine. The lads forced me into trying even more foods and I grew to like them. Veg was served with just about every meal and before I knew it, a meal would look bland if it wasn't served with veg.
At this point I figured out that changing my diet, it wasn't just helping my running, it was aiding my health, and this had to be a good thing. I met a girl, as the story always seems to go, and she had a massive influence on my food choices. She ate much better than I, although she will be first to admit, I was a lot better at cooking! Her choice of ingredients and my cooking was the perfect match. I started to experiment with my cooking and pretty much everything I made was from scratch, I loved the new me.
The season when all my efforts were rewarded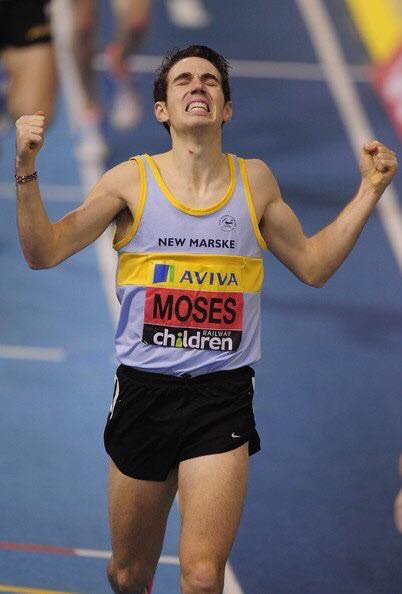 In the winter of 2011, I set my sights on making the Great Britain and Northern Ireland team for the World Indoor Championships, which would be held in Turkey in March 2012. I knew I had to be on top of my game for this to happen, including my nutrition, which was still not quite perfect.
I started with my breakfast, after all this sets us up for the day. I began making overnight oats, mixed with yoghurt and added fruit in to make them taste better. Meals on an evening weren't a problem, but I was trying to snack less, drink more and look more into the recovery side of things. I was drinking milkshakes after training, within 30mins of finishing exercise, as I had completed a research project at University and realised that the mix of protein, carbs and fats helped speed up the recovery process. There is a lot more science behind it than that, but I don't want to complicate things here, let's just say a basic chocolate milk is the perfect recovery fuel!
I did make the World Indoors that year, winning the British Indoor Championships to seal my place on the team. I knew I had raised my game. I had become more professional and changing my eating habits had played a huge part in this.
Suddenly nutrition became much more than just for sporting performance
Shortly after the World Indoors, which were held in March, my girlfriend at the time was diagnosed with Cancer. I will never forget the day. As I write this I still get a huge lump in my throat. July 3rd 2012 our lives changed forever. I said to Gemma, now my wife, that we would make sure our lives changed for the better and despite the horrible situation she found herself in, it would make her a better person.
I'm glad to say it has. She is healthy, fit and well, in fact stronger and fitter than ever. It was during this time Gemma and I both recognised the importance of nutrition and the affect it has on the body. During her treatment Doctors made it acceptable for her to eat rubbish, as they put it "You're going to need all the calories you can get". On her bad days, Gemma did eat rubbish, she lived on Chilli Heatwave Dorito's and she said the taste of them helped get rid of the 'chemo' taste in her mouth. What Gemma also realised, was that it made her feel worse and so did I. I was eating junk whilst living in the hospital with her and I started to crave healthy food. About halfway through Gemma's treatment, we both made a conscious effort to ignore the Doctors and started to eat 'better'.
The start of MOVE Charity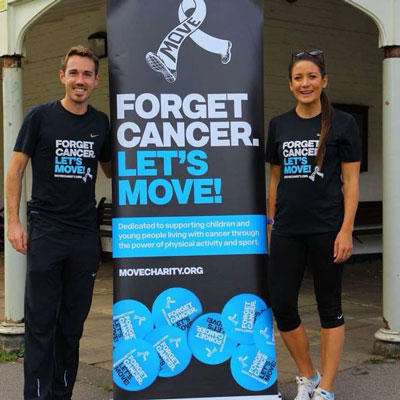 Gemma now educates children and young people living with cancer on the importance of exercise and nutrition, during treatment. She runs cooking workshops, which I attend, and these are all delivered by her own Charity MOVE. I told you something good would come out of it and there you have it. Gemma founded her own charity to help children and young people to MOVE more and sit less during treatment. We live by a healthier lifestyle and we are both running better than we ever have. We don't do anything special. We call it a 'balanced' diet, with plenty of everything and the odd treat .... I say the odd one because we do both still have a sweet tooth to satisfy!
You can read more about MOVE charity HERE
My advice for aspiring athletes
People can become obsessive with food and eating disorders are quite common in the running world. It's for this reason I started to educate myself more in this area, as I now coach runners and I want to be able to pass on my knowledge and recommendations. I'm not claiming to be a nutritionist, but I have made sure I listen to the professionals, taken on board their advice and read as much as I can on 'nutrition for athletes'. I am so much more educated now that I used to be.
So my best advice and I must stress, this is only advice; eat plenty, but eat plenty of the right foods. A balanced and varied diet is a good diet! Eat good carbs, such as; sweet potatoes and wholegrain rice and pasta. Eat good protein such as; turkey, chicken, fish and red meat (not too much mince) and include your fats but try to make them good fats; eggs & avocado spring to mind. Drink plenty and not just water. We use SOS Electrolytes when training and we find they are less sugary than a lot of other products currently on the market.
In terms of things to avoid my advice would be; stay away from anything that says 'zero added sugar', it usually means it's replaced with rubbish. Stay away from 'low in fat' products, as again something has been added. Try to avoid processed foods and microwavable/packaged meals, they are often packed with sugars and sweeteners to make them taste good. Try to cook fresh as often as you can, honestly it surprising how good it can taste when you get it right!
Guest Post by Lewis Moses
Lewis is a highly experienced athlete with a PB of 3 minutes 41 seconds in the 1500m.
He also happens to be a very approachable person!
To get in touch with Lewis don't hesitate to leave him a message on his facebook page New Levels Coaching.